Kids Tennis Lessons - Leederville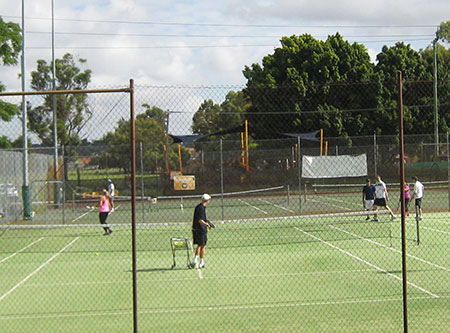 Leederville Tennis Club
For people living in Perth's Western Suburbs as well as central Perth suburbs north of the river, the Leederville Tennis club is a convenient location just off the Mitchell Freeway at which to take tennis lessons. Group and private lessons are available for people of all ages from juniors right through to adults and seniors.
With 10 grass courts, 4 hard courts and 2 synthetic courts under lights, Leederville Tennis Club is a great place to learn and play tennis. A hit-up wall enables some extra practice and a playground across the road can help in taking care of the little ones whilst lessons are in progress.
Kindy Tennis for 3 to 5 year olds available at this venue.
Family-Friendly Kids Tennis Lessons in Leederville
Tennis lessons for kids shouldn't cost a fortune. They should be convenient, affordable, and family-friendly. Coaching young kids is fun, and children should get that feeling from their lessons. That's why Tennis Lessons Perth offers kids tennis lessons in Leederville. Our family-run business has enjoyed coaching kids for over twenty years, and we know how to keep them interested and moving. Teaching tennis is our passion.
Peter Gerrans started coaching more than twenty-five years ago, after a long, successful period in State Grade Tennis. He played on the European tennis circuit and spent time coaching in France and Germany. He then turned his skills and experience into something special and opened his tennis school right here in Australia. In the last twenty years, he's helped thousands of Australians, young and old, to enjoy the sport of tennis. His certifications include the Tennis Australia certification, and he is a TCA Qualified Advanced Coach.
Peter and his talented staff of coaches know that programs need to be parent-friendly, too. That means we offer choices of times and sites in addition to reasonable pricing. Our location for kids tennis lessons in Leederville is the Leederville Tennis Club. With ten grass courts, four hard courts, and two lighted synthetic courts, it's an ideal location. With a playground across the road, you can keep your little ones occupied. There's also Kindy Tennis for kids 3-5 years old who want to get an early start. Call us on (08) 9381 7756 to find out more information or sign up.