Adult Tennis Lessons in Perth
We offer tennis lessons for adults living in the Perth metropolitan area who want to improve their skill levels for either competitive or purely social play. Our adult lessons are tailored to ability and are scheduled at times convenient for those with full time work or family commitments.
Adult tennis lessons are conducted in groups as well as in one-on-one private sessions.
Adult group classes run for 8 weeks and are 1 hour duration. The cost for an 8 week term is $160.00
Adult Tennis Lesson Times Coincide with Kids Lesson Sessions
We have structured our adult tennis lessons such that they coincide with our kids coaching sessions.
Many participating families find that this not only offers a very convenient way to share the enjoyment of tennis but also helps them to make the most of their family recreation time. Why not book some coaching for the whole family and share the fun?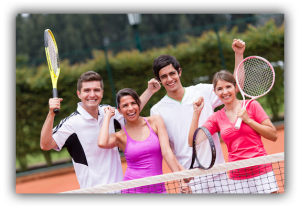 Group Tennis Lessons
A great way to go about improving your tennis game is to grab a friend or playing partner and some tennis lessons together.
Whether you're interested in working on tactics for an upcoming match or simply to improve and develop your tennis skills, group lessons can be a fun and challenging way to have tennis coaching.
Private Tennis Lessons in Perth
Private lessons offers one-on-one attention where each lesson is tailor-made to the individual. Sessions can be focussed on improving a specific stroke or in developing strategies and tactics for tournament or competition play.
Private lessons are 30 or 60 minutes in duration and are designed to rapidly accelerate skill levels and match play.